Opening of an office in the UAE / Ouverture d'un bureau aux Emirats / افتتاح مكتبا في الإمارات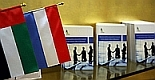 DevStrat has now opened an office in the United Arab Emirates.
The services provided in Luxembourg since 2013 will be developed locally: support to companies for the development of their business relations, follow-up and project management.
Un bureau de DevStrat est désormais constitué aux Emirats Arabes Unis.
Les activités engagées au Luxembourg depuis 2013 y seront développées localement, à savoir conseil aux entreprises pour le développement de leurs relations d'affaires, suivi et accompagnement de projet.
لقد تم افتتاح مكتبا لديفسترات في دولة الإمارات العربية المتحدة
وسيتم محليًا تطوير الخدمات المقدمة في لوكسمبورغ منذ عام 2013 ، وهوتقديم الدعم للشركات لتطوير علاقاتها التجارية الدولية، ومتابعة وإدارة المشاريع
Contact : adm.devstrat@rakfzbc.ae